geek chic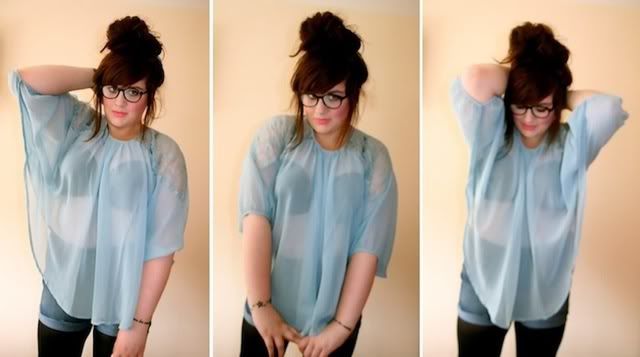 primark lace cape
dorothy perkins high waisted shorts
two day old topknot, my own
yesterday holly and i went on a super early morning cinema date to finally see harry potter! we're so late to the party but i thought it was pretty good. the saddest part for me was the lily and snape thing.. 'always'. CRY! after eating popcorn and drinking ice blasts at 10am we popped into primark to have a little looksee and i found this sheer cape. it's exactly the same as the new look one i posted about in this
post
except it was ten pounds cheaper! primark also have a coral/rust kind of colour one too, but it's not as bright as the new look one. still nice though!
whilst in primark we found these excellent monkey onesies in the mens section, i really wanted to buy one but they were so long! in hollys words "they're made for tall boys and you're a short girl." i tweeted a
picture
and you can see it just wasn't meant to be. if you're a tall boy or even a tall girl i urge you to buy it so i can live through you. IT HAS A TAIL AND EARS AND EVERYTHING.
anyway.. today louie came on a family day out to the coast, we stopped off at
beauty and the pooch
to buy a new harness and coat for him. the coat is a delayed birthday present from my dad, i've been looking everywhere for one for him but he has a huge chest and short body so it's kind of difficult! i totally recommend beauty and the pooch if you're in the north east though, they have an excellent range in different sizes and the staff are so so lovely.
OH and i think this is the first time i've posted pictures of me wearing glasses on here, i assure you i'm not one of those people that wear geek glasses for the hell of it though. they do actually help me see! i don't need to wear them much, but i've had this super headache of doom the past two days and wearing glasses makes me feel less dizzy.