cheap thrills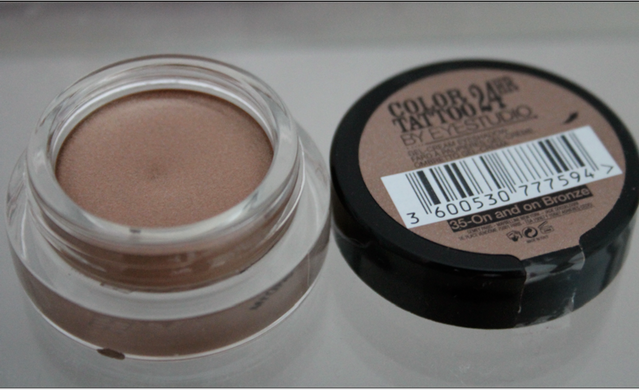 maybelline 24 hour color tattoo - 35 on and on bronze
every so often i'll take a wander around boots and buy loads of stuff because it's relatively cheap and it satisfies my need to buy things i don't need without feeling too guilty. majority of the time i regret it because i end up with cheap make up i don't wear because quite frankly it's rubbish and i already own makeup that does the job better. HOWEVER on some rare occasions i end up with new things i really really love that don't cost the earth. THIS IS ONE OF THOSE TIMES.
i genuinely don't know why i bought the 24 hour colour tattoo because i cannot for the life of me make mac paint pots work for me or any kind of cream eyeshadow really. they just slip off my lids or crease majorly. for some strange reason though, the 24 hour colour tattoos last really well on my eyes. absolutely no way they last 24 hours but they can definitely survive an average day in a hot office. super impressive! shame i don't like any of the other colours available because i'd definitely buy more.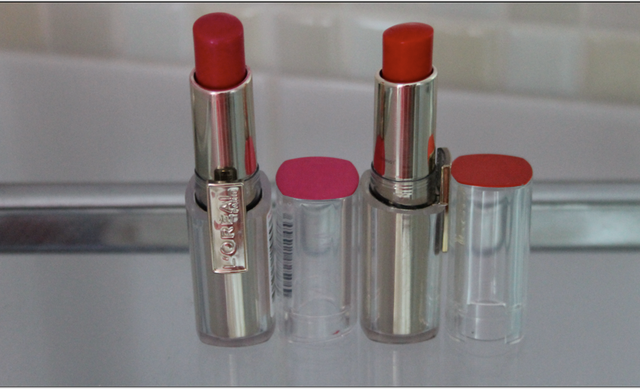 l'oreal rouge caresse lipsticks in impulsive fuchsia
and rebel red
i actually found these by accident when looking for the revlon lip butters (cannae find them) and thought the idea of them seemed similar. no idea how they compare but i love these lipsticks! they're basically a really pigmented lip balm, which is brilliant for me because my lips are so dry lately but i hate lipgloss. they're really easy to apply and because they're so moisturising they don't cling and they leave a really nice stain as they fade. they don't have the greatest staying power but because they're so easy to apply it doesn't really bother me.
the colours i picked are very 'me' colours, though i did notice there were some less bright more nude shades in the collection too! because the formula of these are so balm like i definitely didn't expect these to be as pigmented as they are - they remind me of the 17 mirror shine lipsticks but far less glossy.
soz for the extreme closeups of my face but i hate it when people rave about products but don't actually show what they look like on or just swatch them up an arm!
impulsive fuchsia
rebel red